DHS Class of 1979
Alumni Comments
Here are Alumni comments which can really be anything; announcements, suggestions, ideas for get-togethers, Dottie sightings, what you've been up to, offering a helping hand, or really any topic for your fellow Alumni
Would you like to add a comment for your fellow DHS 1979 Alumni to read?
Select the following link to submit your Comment: [Submit Comment]
---
---
Longtime Dearborn High School teacher dies at 101
Dearborn Press & Guide, April 19, 2016
(Dearborn, MI)
With her flaming red hair and self-assured personality, Dorothy V. Wolfe never failed to make an impression on students at Dearborn High School during the three decades she taught English there.
In later years, she prided herself on her knack for remembering most of her 10,000 or so former students – and for being able to relate well with many of them a half-century and more after she had them in class.
Miss Wolfe, as she preferred to be called, died at 101 on April 16, 2016, at an assisted living home in Upper Sandusky, Ohio. She had been ill for only a week before her death.
"Dorothy Wolfe was a commanding, demanding presence whose reputation preceded her and whose legacy of teaching and keeping current with her students and colleagues and her family will succeed her," said Paul Ganson of Dearborn.
Lynne Jackson of Northville said she vividly remembers her first encounter with Miss Wolfe:
"I walked into my 11th-grade lit class, and there in the doorway, personally greeting each student, stood Miss Wolfe. She was wearing purple velvet ballet shoes, a bright, emerald green dress, and she had the most amazing red hair I'd ever seen. Her hair was matched by her bright red lipstick, smiling below a pair of twinkling eyes as she herded us in with a robust: 'Come in, come in!'"
Jackson described the experience as an "amazing class where every kid got their like-it-or-not first acquaintance with the classical world of English prose and poetry. Bottom line: We all learned the material, even the jocks."
"She came to our 50th class reunion in 2010," said David Good of Dearborn, "and the queue of old students at her table lasted all evening. I kept trying to take her back to her condo starting at 9:30, and I couldn't get her to leave till almost midnight. She had such a great time seeing her old 'kids,' she just didn't want it to end.
"She also was game to go out for a beer and a burger. A few of us would ask her out occasionally, and she always seemed to have a good time sharing stories – and political opinions."
Known for her strong pacifist convictions as well as her flamboyant appearance, Miss Wolfe taught at Dearborn High from 1948 through 1981. She lived in Dearborn from 1948 until moving to Upper Sandusky in 2013 to be closer to relatives. She let her hair revert to its natural white only a few years ago.
Miss Wolfe was born in Seneca County, Ohio, on July 18, 1914, the eldest of seven children of Harley J. and Virginia Holmes Wolf. She graduated in 1930, at age 15, from Bloomville High School, Bloomville, Ohio, and earned a bachelor's degree at Bowling Green State University in 1937.
She then began her teaching career at Salem Township School, near Carey, Ohio. In 1942, after the onset of World War II, she took a three-year hiatus from education to work for the War Department in Dayton, Ohio; she went back to teaching in 1945 in Maumee, Ohio, before moving to Dearborn.
During her 33 years in Dearborn, she became an enthusiastic world traveler, taking two sabbaticals to teach English on board a "floating university" at sea. She also earned a master's degree from the University of Michigan.
Miss Wolfe chaired the Dearborn United Nations Day celebration for several years during the 1970s, and she was a member of the Dearborn Historical Society and the Dearborn branch of the American Association of University Women. At Dearborn High, she was faculty sponsor of the Junior Red Cross.
Survivors include a sister, Edith Loverich, 97, of Valparaiso, Ind., and a sister-in-law, Alice Wolf of Carey, in addition to many nieces, nephews and other relatives.
Services are scheduled for noon Thursday at Bringman-Clark Funeral Home in Upper Sandusky, following visitation beginning at 10 a.m. Burial will be at Oak Hill Cemetery, near Upper Sandusky.
The family suggests that tax-deductible memorials be made to the Museum Guild of Dearborn, P.O. Box 2725, Dearborn, MI 48128.
---
Here's a few pages from Ms. Wolfe's U.S. Registered Patent
---
Passing of Ruth Brasie
By: Tim Rauh, Oct 29, 2015
(Dearborn, MI)
It is a with a very heavy heart that I tell you Ruth Ann Valentine (nee Brasie) passed away on October 15th. She lost her battle with AngioSarcoma after being in remission for over 5 years.
Her good friend and fellow DHS '79 alum Christine O'Hagan Davis was able to spend most of August with Ruth Ann and she was the same strong, loving person we knew in DHS.
Ruth Ann left a loving husband, Colin, and two daughters. Emma is a freshman at Texas A&M, and Noelle is 13 and in her last year of middle school.
Let's all please say a prayer for Ruth's family as they cope with this terrible loss.
Tim
---
Just like the Energizer Bunny......
Ms. Wolfe 101 . . . that's her age, not English 101 !
We all wish her a very Big Happy Birthday on July 18, 2015
By: Dean Cawthon, July 18, 2015
(Dearborn, MI)
Facts you may not know...
Ms. Wolf proof read the Ten Commandments for Moses!...don't want any spelling mistakes there!
She knew Captain Crunch while he was still a private
She knew Burger King when he was still a prince
She knew Mr. Clean when he had an afro

She has an autographed bible
She Partied till daylight during the Boston Tea Party!
She went into English because History did not yet exist
Recalls when the Grand Canyon was just a ditch
She still likes books and loves to read....when she reads the bible, she reminisces


Don't let them climate change fanatics spoil your good time.....the heck with Global Warming...
...light them candles on that cake and let the earth temperature raise a few degrees! Party On!

Please note: The Senate is investigating deceptive sweepstakes practices.
These organizations target the elderly and make them think they will receive
a bunch of money, but in reality they never see any of it....
...
The most popular of these scams is called Social Security.

So have a Big Happy Birthday...and as Bremenkampf, Bridges, Guth, Johnston,
Keyser, Nastase and Mr. Marshall would say....
"Dottie, at 101 your're in your prime!"
---
---
Fore.....
By: Paul Bonaccini, July 14, 2014
(Dearborn, MI)
DHS Golf Outing on August 23rd at Dearborn Country Club.
---
Greetings From Austria!
By: Heinz Gassner, May 15, 2013
(Salzburg, Austria)
I will never forget my year as exchange student at Dearborn High - I almost managed to join the 30th anniversary, but was too busy at the end. Well, next try will be the 35th then.
---
Alex, I'll have name that tune for $1000
By: Dean Cawthon, May 19, 2012
(Dearborn, MI)
A great big "Congratualtions" goes to Kevin Dewey in celebration of 20 years of Vanguard Voices and Brass and Renaissance Voices. A concert celebrating the two decades of choral music was held at
the Ford Community and Performing Arts Center on May 19 and was a great success. When I'm a contestent on "Name that Tune" I want Kevin as a "phone a friend lifeline"....am I mixing up my game shows?
Free Press Article
---
A Wolfe among the pack!
By: Dean Cawthon, Aug., 2011
(Dearborn, MI)
Ms. Wolfe has quite a reputation as a party animal! As you all know, she attened our 30th reunion and was one of the last to leave! When by brother Marty was recently getting ready for his 40th reunion (class of '71), I suggested he give Ms. Wolfe a call and invite her - which he did. She attended and again stayed until the end, having a great time. At 97 years young, it still takes two of us to keep up with her!
My brother Clifford and myelf also went along (official entourage?). This was also held at the Dearborn Inn. I think we have discovered one of her secrets for staying young....Red Wine. She had a big glass and told us we should take "Resveratrol" which is a nutritional supplement and is like a bottle of wine in a pill!...Not as much fun mind you, but you do get all the health benefits without the hangover! Who knows, it may even turn your hair red!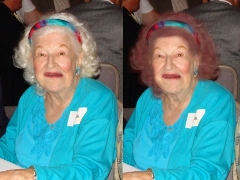 ---
50 for the 5th - Pretty Good!
By: Jan Kain, July 16, 2011
(Dearborn, MI)
I noticed that one of the pages states that the weather for our 5th in Dec 84 was terrible.
I guess it's subjective, but, while it did rain that day, the temps were in the 50's! Pretty good for December in Michigan!
---
Hi Everyone - Come to the Player's Guild
By: John Hutchinson, January 12, 2010
(Dearborn, MI)
Hi Everyone, Well I'm back here in Michigan now (for 5 years now) after living in Colorado for 7 years. I couldn't make the 30th Reunion, but will be here for the 35th, god willing.
I will be appearing in the next Players Guild of Dearborn play titled Is He Dead? It's a comedy by Mark Twain.
Show dates are Jan. 15th - 17th, Jan. 22nd - 24th, and Jan. 29th - 31st. Rehearsals have been a hoot, and I'd love to see you there.
For more info go to [Players Guild of Dearborn] or call the Player's Guild at 313-561-8587
---
Summer Greetings
By: Tim Rauh, October 25, 2007
(Dearborn, MI)
What a great summer we had here in Dearborn. Dottie has been showing off tan lines since June. She usually burns, but as of last week she was sporting a nice deep tan. Who was the guy she was walking with a month or so ago...Mr. Hill? no, Karl Fleigel...no. I'm pretty sure it was none other than Mr. Brenankampf (Mr. Spock). She was just walking him over to the Bryant Branch library to show him the slick new computer terminals. What a contrast those things are sitting in that ancient, but charming old place.
Anyway, it was one of the best summers I can recall. Fair skies, warm temperatures. Enough rain to keep things growing, but nice nearly every day and today is no exception. 70 and mostly clear.
Big Time Blast from the Past - Last Saturday at 2 pm I watched my son Andrew cover much of the same cross country course as I did 30 years ago. We were cheering for Divine Child where Andrew is a 9th grader...OK, I was pulling for the DHS guys too...Yes, Mr. Bridges was there. He was delighted to see my son run, but mentioned that he was in the wrong team colors. Andrew had a "personal best time" for the day...and so did I come to think of it. It was quite a thrill to see it all happen again.
And speaking of happening again...it won't be long and we'll upon the 10 anniversary of our 20th High School Reunion...how 'bout THAT for total denial? Yes, in 2009 it's the Big 3-0 for those of us willing to admit it. Weren't we just kidding each other about actually turning 30 (?)...now it's our high school reunion number...not good...do those two numbers ever catch up to each other? We should run that question by Dean Cawthon...math/science type.
So, please start spreading the word. We'll try for a mass mailing in the next few months to find out how totally of date our mailing list is...and I KNOW it will be. We'll be after you to turn friends in so we can let them know it IS going on. And finally, with this much time, I might be able to lose that weight so I can get down to that slim, 2 time city cross country champion weight of 165 lb.s I use to be. Truthfully, there's not even a chance of that and only my nose runs these days. Lisa and I do get a good 45 min walk in 4 times a week...you've got do something!!!
Keep Janet Baetz in your prayers.
Let me know what you've been up to from time to time.
The fat man's ice cream place on Ford Rd. got knocked down. Now it'll be an arab bakery. Dearborn Italian Bakery still makes killer pepperoni rolls and is right across the street. And Bartz Bakery is still doing good business...which is why I need to keep walking.
So, put on some Boston, Bee Gees, Fleetwood Mac or terrible Ted and work on your dance moves. You'll want to be ready to boogie down in 2009
Wishing you all Peace, Understanding and some money in the pocket of that coat you're putting back on for the fall.
---
Hey Alum, Spring is in the air
By: Tim Rauh, April 27, 2007
(Dearborn, MI)
My harbinger of spring, Dottie, just got wind blown down the street on her way to Einstein's for a lox on an onion bagel. Where does she GET those dresses? It's giant red poppies in a print with screaming red shoes and a lime green purse to match.
Not a lot of alum news, but I do have a few people I hope you'll keep in your prayers. Ralph Evangelista has been in the hospital since the day after Thanksgiving 2006. His story and maladies would fill several pages, but the short version is he cheated death and is on the mend. He's trying to make it home in time for his daughter Cris' graduation from ol Dearborn High. It looks like he'll make it.
Also in the medical category pray for Gail Shuk, and also Janet Baetz.
In the "Man,-I-didn't see-THAT coming...or THAT on the same day!!" department, put a prayer in for James Todd too while you're at it.
The buds are on the trees, but it's a windy 50 degrees and grey. Tony Russo will want to be sure to hang onto his bicycle handles with both hands on his ride down Outer Drive today. He looks like that photo of Einstein on a bike...
Anyway, when the sun shines and it warms up with all of the budding trees, flowers and green grass, we remember why we stay in this corner of the world.
Let us know what you've been up to from time to time. Keep those addresses current, thanks Gary Rukstelo for the update the other day...you're going to like Heartland.
Shut the computer game off and call someone today.
Got to go cut the lawn for the first time this year...gee, I hope that mower starts.
Go Wings, Go Pistons, Go Tigers...Go Lions (far away)
Happy Friday!
---
Hey Alum, Goings on..
By: Tim Rauh, November 14, 2006
(Dearborn, MI)
A light brown Ford Fairmont with a white top just went roaring by with ol' Nick Papas at the wheel. He had Dotty Wolf riding shotgun and I could hear DeStigter hollering about the lousy leg room from the back seat. Ms. Fogell was back there with him, she was reading the map...or was that a GPS? They were off to Adray's to get a metal detector to look for dropped coins near the parking meters they've set up over here on Garrison.
Taking the corner at Mason and Garrison on two wheels, they nearly ran over Mr. Arrick walking across over there near Lynch's Costumes. Arrick had a few choice conjunctive phrases for them as they shot past. He's walking down the hill to Ford Field to see the last of the fall colors. There are some nice walking trails, a pond that's an extension of the river and that picturesque covered bridge.
Yes, the new bridge is still relatively carving free...what's WITH kids these days? Doesn't anyone express themselves in carved wood anymore? It's all e-mail and text messages....what will they have a year or two as a record of their mad, youthful affection...nothing! I bet I can still go to Levagood and find picnic benches with notes from Sammy to Linda, or some colorful directives from Don Hoover. But I digress...
Someone is building a 4 story building on the corner where F&M was. It's strange to see a building rise so high. It seems well designed and is in keeping with the look of the new stores built across the street where Jacobson's used to stand.
Frank's Nursery on Mich Ave. was flattened two weeks ago too. Not sure what's going in there.
DHS has a pretty good football team this year. They just beat Allen Park to go onto the playoffs.
It'll be a high of 43 today. The overcast sky is the color (?) of the pavement and it might snow by Friday, but it WILL snow on Thanksgiving just as surely as the Lions will lose the game that day.
We're still looking for Nancy Magurean (FL last) and Dr. Marjorie Malleck.(Las Vegas last).
Also recently John Rowan WON on Jeopardy! Nice going John!! Mary Brosnahan continues to fight for the rights of the homeless in New York City and has done amazing work on their behalf. Hers is a great story of how she came to decide on that life path. We're super proud of you Mary.
Have a special holiday season. Please don't let too much time go by before calling somebody to let them know what's up with you. That time gap can turn into decades before your very eyes as you well know.
Looking both ways before crossing over here on Garrison!
---
DHS 1981 is having a Reunion
By: Tim Rauh, July 13, 2006
(Dearborn, MI)
Tell that younger, but not young anymore, sibling of yours who graduated in 1981 that their 25 year reunion will be at Andiamo's Restaurant on MI Ave. on Aug 5 2006. Not Baileys as previously reported here.
I will try and post Liz Haynes's phone number and info soon so you can pass that along.
Tell them to go to their reunion. It's for their own good. They'll be amazed at how much fun they'll have.
Now I'm assisting with other class's reunions!..Geeze, I've really got to get another hobby.
A Pioneer for life I guess.
---
Hey You DHS Jocks Out There!
By: Tim Rauh, June 7, 2006
(Dearborn, MI)
I am talking to the men and women both.
A place called "The Little Cafe" is having an all high schools in Dearborn sports hall of fame. It's heavy on DHS stuff because Carl Fleigel is helping...yes, he's alive and well. It will have DHS, EF, Fordson, DC in there...maybe others.
Anyway, they're going to open it at Dearborn Homecomming 8/5/06 in the morning. There will plaques from past state titles, all sports awards etc. in a room off to the side of the main restaurant.
The restaurant is next door to what was Little Professors Bookstore(it closed a year or 2 ago). It'a nice place for breakfast, lunch or deserts after a movie.
Anyway, I'll let you know what it looks like once they open it. They'll take any plaques you might have to donate, as well.
Also, speaking of Homecomming, the class of '81 is having an informal reunion Sat Aug 5. I believe it will be at Baileys. Elizabeth Hayes is running it. She's a teacher at Bryant. I'll get more info and post it soon. Tell your younger sibs, will you?
Thanks and Stay cool,As ever.
---
Tony Russo to Conduct!
By: Tim Rauh (2nd Violin), May 18, 2006
(Dearborn, MI)
This is real last minute, it's tonight, and I know next to none of you will make it, but I wanted you to know about it anyway. Tonight, Mr. Tony Russo will conduct the DHS band one more time for old times' sake.
Tony is in his eighties. He's doing fine and they asked him to take the baton one more time.
There willl be a few of us band/orch/jazz band alum in attendance. We will be sure to pass along your best wishes to him.
Those of you who've made the reunions will note that he made it to our 20th and our 25th bashes... he's doing better than most of our officers for making these things!
I hear he's scheduled for a Souza march..I was really hoping he would do In The Mood. Man, we tore the place up with that...nobody spins cellos (Chuck Davis) anymore. How 'bout the dry ice fog durring the drum solo. And great solos from shy guys like Rob Franchi, Rich Moore, Tom Beresford and the not so shy Kevin Dewey. You guys were all super to watch "go to town".
Then there was the time Jeff Peter blew the doors off of the Ford World Headquarters auditorium during our rendition of Rocky's Theme...he had the amp up a little too high on his electric guitar...just great. We were not asked back, but was it worth it!!
I'll let you know how it goes. If you're anywhere near DHS tonight, stop by at 7:30 you won't be sorry...for at least one tune anyway.
Take good care my String of Pearls,
Tim - 2nd violin
---
I'm Baaaaaack!
By: Lise Wheeler, March 30, 2006
(Stanwood, MI)
After 20 years in Seattle getting rained on, I decided to come back and be frozen in place by a good MI winter. Have connected with a few of you, and it has been a treat! Will be at homecoming this year to annoy and just be immature. Hope to see you there!
---
Thanks for Good Wishes!
By: Beth Isham, November 23, 2005
(Dearborn Hts, MI)
Hi Everyone! Thank you Tim for the mention regarding my wedding and the good wishes. It was a beautiful day and we enjoyed every minute of it. We even got into Joe Louis Arena to take pictures where Tim proposed! Tim is a great guy and we are very lucky to have found each other. Hope everyone is doing well. Happy Holiday to you all!
---
Hey Fellow DHS "O" 79 Alum!
By: Tim Rauh, November 22, 2005
(Dearborn, MI)
The holiday season is upon us and I wanted to get my report in before I got too busy looking for Silly Putty to give out as gifts. It's been a beautiful autumn here in Dearborn. Blue sky again today and Ford Field is awash in Dottie Wolf red, Phyl Brawthon orange, Bill Hill Silver, Dill King gold and DeStigter brown leaves. Come to think of it a lot of them were colorful characters in their own right, weren't they?
Beth Isham got married last month. The guy, Tim, proposed to her by posting the Big Question on the huge score board at the Red Wings game. Very romantic, I'd say. Best of luck to you Beth.
No other alum news to report. The west end of town here is filling in with the new building of stores that will replace Jacobson's space. They did a nice job on the two parking decks behind as well. The only store left on Newman any of you would still recognize is the Hallmark store. Even the post office moved.
Also the stores they've put in where Veteran's Hospital used to stand are quite impressive as well. It's a small city over there.
Veteran's Hospital was across from where the giant cow used to stand....not sure what that was there for. The other fake cow is also missing from the coin shop on Michigan Ave. too come to think of it...However, you'll be glad to know the fake oxen are still pulling the cart a few blocks down. And people still have ceramic deer out in front of there houses, but now seem to go more for fake lions. Maybe it is a sign of the times we live in.
All is not completely lost, though, because there are lots of trolls and dressed up duck out on lawns too. And most importantly, the doll is still in the window of that house on Outer Drive so we haven't changed THAT much.
Have a great holiday season if I don't get back to you before then. Take time to care for each other.
Always watching from over here on Garrison,
---
Invitation to Dinner
By: Ray Borden, July 13, 2005
(Livonia, MI)
Over the past few months I have had the pleasure of serving dinner to Tim Rauh and his family. Last month Lou Dolhopf (Damiano)came in for dinner as well. I again want to extend the invitation to any Class of 1979 Alumni to have dinner at Giulio's Cucina Italiana in Livonia and receive a 15% discount off the entire bill. 734-427-9500
---
A Steamy, sticky Dearborn Hello
By: Tim Rauh, July 13, 2005
To all of you from your VP on this fine July day. Dottie just went by my office over here on Garrison sporting her flower print sleeveless number with her matching fish print purse. She's on her way over to the Senior Center at the Bryant Library to kick some butt and rile everyone up about paid parking here in west Dearborn amongst other hot topics. Kevin Dewey lives down the hall from her at her appartment complex and is keeping an eye out...a full time job I might add.
Just a note to say that the "youngsters" in the class of 1980 are throwing their bash at Bailey's on Sat Aug 13, so some of that group may be around for Dearborn Homecoming the week before...so you've been warned.
Not much else to report on the Alumni front, though we did find Anna Louise Marquis in Washington DC running large parts of the Smithsonian collection.
For Dearborn's part, they're making progress on the Jacobson's site with a new building and Adray's DID stay in Dearborn.
There are also about 20 condos where Ron Kuhn's house used to be down the block from me here on Garrison. They're nicely done by what I can see.
Finally, Bill Dean dropped by a month or so ago and gave me a ride in a hybrid Ford Escape. It was really neat and "creepy" quiet when it went over to electric power. It was FAST too. We sure gave ol' Nick Pappas a run for his money racing him up Telegraph in his Dodge Aspen.
Anyway, stay in touch...with reality and with each other. Write to me or to all of us in this space if you can make some time. We all like hearing from you once in a while.
I think I'll head over to the Fat Man's ice cream stand on Ford road for a cone. See you around town.
Peace, I mean it!
---
Know you getting old...
By: Tim McInnis, Jan 15, 2005
(Brighton, MI)
Ok, We know we're getting old when I have Eric and Mary Lagerstrom's son in my high school freshman gym class...unreal, Mac.
---
Passing of Steve Lambroff
By: Tim Rauh, Jan 10, 2005
(Dearborn, MI)
It is with a heavy heart that I have to report of the passing of Steve Lambroff. He died suddenly on Jan. 6th down in Ft. Lauderdale, FL where he had been living for the passed 5 years.
For years we had lost touch with him, but had recently found him in FL. It was his intention to be at this last reunion, but he never showed. See below in this section for one of his letters.
His obituary is in the Sunday Free Press dated 1/9/05. I guess we're going to need another section on our web page soon to cover these events.
Please take care out there.
Tim
---
Come for Dinner
By: Ray Borden, Jan 8, 2005
(Livonia, MI)
I want to extend a discount to Dearborn High class of 1979 graduates. I have opened an Italian restaurant in Livoina and would like to extend a 15% discount. Please ask for me when you come in.
My restaurant is called Giulio's Cucina Italina and is located at 31735 Plymouth Rd. 3 blocks west of Merriman. I can be reached at 734-427-9500.
Thank you and I hope to see you soon!
---
Ch, Ch, Ch, Changes
By: Tim Rauh, November 30, 2004
(Dearborn, MI)
There are some changes going on around town and elsewhere and I wanted to make you aware of them.
1. Jacoboson's is gone and they're putting up a shopping mall/hotel.
2. Veteran's Hospital (Southfield and Outer Drive) is gone and they're putting up a shopping mall. Adray's will move there.
3. The large photo of Greenfield Village that had our Loran Schnell prominently displayed laying on the grass on the wall of the Oakwood Market has come down.
4. It's pronounced Bonna chini now, not Bona cini.
5. I was driving and saw a DHS varsity jacket. On the back where the sport was usually written in like Track or Football was the word "Robotics".
6. Angelo's is closed. Not easy for me to write that one. It's just my opinion, but I think they started going down hill when they took the red/orange shag carpet off of the walls.
7. Ford Field is also where the Detroit Lions play. We'll all remember the bruiser games that were played at OUR Ford Field where Adams played Bryant, O.L. Smith and others.
8. No, she's still with us...Dottie Wolf is still alive...some things NEVER change. And yes, I still wear sweater vests (today is maroon).
Have a great holiday season. Please take time to enjoy it with your family and your friends. Stay in touch with each other and let us know what is up with you and yours once in a while. Thanks.
Pray for peace
---
Passing of Chris Lindberg
By: Tim Rauh, October 18, 2004
(Dearborn, MI)
I have sad news. Our friend Chris Lindberg Age 43 Died suddenly October 14, 2004. Of a heart attack in his sleep with no warning and no history of health trouble. He was the father of Amy Jessica and Kimberly Marie and their mother Eileen Karen Lindberg. Dear brother of Anne (Jeff) Lettieri. Uncle of Amanda, Stephanie, Jacob and Matthew. Brother-in-law of Laura Lindberg. Nephew of Audrey (Travis) Whitlow and Donna Hicks.
A Memorial Service was held at the Church Of Today West, 32500 West 13 Mile Rd. Farmington Hills, 48334, Sunday, October 17, 2004 at 2 PM.
He was working at Ford on quality control for the Mustang and also loved to race. His loss is a shock to us all. Our prayers go out to his family.
Please make the most of the time you have.
---
Bonaccini Traverse Bay Cottage
By: Rosie Raftary, October 13, 2004
(Dearborn, MI)
Wanted to let everyone know I spent this past weekend at Paul Bonaccini's cottage on Traverse Bay. What a BEAUTIFUL place. If you get the chance to get up there, it's awesome.
You can bring a pretty big group up there, I think the place sleeps like 12 people so it's definatley affordable.
And the scenery! It was just perfect. And Paul was such a gratious host. I'm posting the website cause I think everyone should see it:
Link to Bonaccini Cottage Info
Got to do everything I wanted, sunset, fire on the beach, stargaze, fall colors, and oh, drank alot of top shelf whiskey too. So, take a road trip and check it out.
---
Live and Learn
By: Carol Thomas, September 06, 2004
Learn from yesterday,
Live for today,
Hope for tomorrow. :-)
---
25th Reunion
By: Tim McInnis, August 23, 2004
(Brighton, MI)
Glad I stopped by for a few Friday night. Tim and his crew do an awesome job putting these things on. Hoover, Mnoranies, Schumacher, Pierce, Larraza and Brian Brooks send their best wishes to all they were tied up with business...you know see ya in 5...the mac
---
We've Still Got It!
By: Tim Rauh, August 09, 2004
(Dearborn, MI)
True story, this just happened an hour ago. August 9, 2004
It's the Monday morning after our 25th reunion parties and I'm at the bank depositing the money from the Pay-At-The-Doors. I tell the teller (is that english?, I guess so) this is from our 25th reunion and she asks me where we had it. I said we were at the Hyatt.
She says, "well, my daughter (Laurie I think she said) is a waitress at Bailys across the street. She was working the basement and she came home late on Friday and said
"Mom, there was this bunch of people that were as old as you and they were really PARTYING!. I had to cut some of them off. One of them fell down!!!"
I smiled proudly and loudly announced "that was MY CLASS." To which I got a LOOK from the old lady listening in at the next window. I explained that was our warm up party.
Laurie went on to say that she was well tipped and escaped mostly unharmed. Baily's said we're more than welcome to come back...as long as it's in 5 years.
You know, when I think about it, that was actually our "Second Team" because, Mikataroff, Hoover, Hilton, Bubbles, Irwin, Walker and a few other "varsity players" didn't/couldn't make it. Although, our "Captain" was there and I'll let you just guess at who she might be.
Way to go you guys. That's the Pioneer Class o'79 Spirit.
We've still got!
Tim Rauh - Waterboy
PS And I bet we could STILL get thrown out of the McDonalds on Michigan Ave. if we wanted to.
---
Thanks for the 25th!
By: John Johnson, August 09, 2004
(Columbus, OH)
Hey Tim, thanks for your efforts in getting our 25th reunion together - a good time was had by all. (You might want to revisit the $6.00 beer cost next time!) Great to see everyone again!
---
I'm your Gal!
By: Jill Donahy, August 07, 2004
(Dearborn, MI)
Hey Tim! Finally eeking into the 21st century!! For an update, I'm currently the Research Coordinator in Urology at Henry Ford Hospital. Interesting stuff in clinical research. Also, if anyone needs a referral for Viagra, or incontinence ("gotta go!"), I'm your gal!! Don't laugh! We are getting older...
---
No Joints!
By: Rosie Raftary, August 03, 2004
(Dearborn, MI)
Kind of funny using that name. Anyway, I'm hoping lots of people are gonna show up at Bailey's on Friday cause I can't make it Saturday. And I will NOT be selling joints.
---
Ray Borden's Restaurant
By: Jann Soltis, July 24, 2004
(Livonia, MI)
Here's a plug for a wonderful restuarant managed by a classmate... Ray Borden is the manager of the new Giulio's Cucina Italiana restuarant that just opened July 6, 2004 in Livonia.
It's wonderful! Great food, nice atmosphere, reasonable prices and you can say hello to Ray while you're there! Try Ray's own signature dish... rolled chicken breast with spinach and cheese, topped with a wonderful marinara sauce and pasta.
Fabulous! They have a large wine selection and yummy desserts. Check it out for a good time... Giulio's is at 31735 Plymouth Rd. in Livonia. (734) 427-9500 (Closed Sundays)
---
Discovered this site!
By: Scott Liebold, July 07, 2004
(Wolverine Lake, MI)
I saw the web site tonight for the first time and it kept me up past midnight on a school night! Thanks to all who make the effort to put this together. Nice Job.
Personally, I've never moved away from Southeast Michigan. I'm presently living in the Village of Wolverine Lake, near Walled Lake.
As far as August 7th, my wife's family has a reunion during the day at Camp Dearborn. We talked it over and it looks like I'll be showing up stag at the Hyatt. Just need to be sure not to overdo it on the paddleboats!
---
Doug Baggert...Found!
By: Doug Baggert, June 30, 2004
(Hendersonville, TN)
I've also been "found," thanks to Tim's solid detective work and a note from Jerry Petri, who lives nearby. I'm back "home" in Tennessee, where I was born, after living near Toronto for two years.
Unfortunately, I just found out about the 25yr party, and will need to do some serious schedule juggling get there. Right now it is TBD, but I would love to see everyone. I hope this note finds everyone happy and healthy.
---
Hello from Sunny Florida
By: Steve Lambroff, May 28, 2004
hi everyone! Tim found me also, here in great state of sun and fun and still having that fun I will see all of You in Aug. Steve Lambroff, Ft. Lauderdale, FL.
---
John Schierloh...Found!
By: John Schierloh, April 29, 2004
(Livermore, CA)
Hi Everyone! Tim Rauh got a hold of me somehow and I was thrilled to hear from this voice from the past. Is anyone else from DHS living in the SF Bay Area or northern CA?
Maybe we could arrange a DHS/Tahoe ski trip, although it would never equal the experience of the Friday night Ski Club trips to Alpine Valley. Take care all and God Bless. John S. John Schierloh, Livermore, CA USA.
---
Traverse City Invitation!
By: Paul Bonaccini, April 07, 2004
(Traverse City, MI)
Hi gang... Just a quick note to say hello and extend an invitation to you all to consider spending some time in Traverse City.
We own some waterfront cottages on Grand Traverse Bay that you are welcome to use without cost! Please feel free to look at the properties on the following website for further information:
Link to Bonaccini Cottage #4534 Info
Looking forward to seeing you at the reunion. Contact me with any questions you have.
---
Hi All!
By: Donna Robertson, April 06, 2004
(Loveland, OH)
Hi, my brother, Carl Robertson (class of '77) mentioned that I was having my 25th class reunion this year. He gave me this website to visit...but my name wasn't listed, even on the Lost Site.
HAHA Thought I will show up for the reunion anyhow. no grudges ;-) haha Couldn't pass up the chance to see some old faces. haha! Seriously, sounds like a good time!
---
Finding more Alum all the time..
By: Tim Rauh, March 29, 2004
(Dearborn, MI)
Good Soggy Monday Morning to All DHS Alum: I wanted to tell you of the latest alum who turned up. Do any of you remember the friendly, tall, exchange student named Heinz Gassner? Well, he found the web site and he's going to try and be at the reunion.
This is one guy I didn't think we'd ever find. Thank the computer age for the internet. Yes, he lives in Austria, (and that's not Austria, OH!) but he travels to the US on business.
He'll be giving Dr. Don Hopkins a challange for being the farthest away alum to attend. For the 20th Doc Hopkins came in from Slovakia or Slovinia or Lower Slobobia or some place like that...I'm also geographically challanged. It's just great (re)finding all of you. Kim Berry and I tied up traffic on Robindale for a half hour just yesterday getting caught up.
The party is definitely building into something big. We're finding new old friends everyday here at Reunion Central. Again, consider coming. It's for your own good. It will surprise you how much fun you'll have. It's one of the rare places these days where you can say something is really "bomb" and they'll all know what you mean. Smile, Tim
---
Darn Near Christmas - Greetings Fellow Alum
By: Tim Rauh, December 12, 2003
(Dearborn, MI)
It's a wintery day over here on Garrison. Mr. Papas just drove by in his rusted out Plymouth Horizon and I noticed he's gone over to his winter weight toupee. (I noticed this even though he was going by at well over 50 mph!) He was ranting something about past participle. So, he reminded me to put out another newsletter to you, my favorite past participles. (yes, I had to look up how to spell participle...no, I still don't know what one is).
First, there will be a reunion of some sort. Even if it's me and Roger Shomo sitting under a tree at Ford Field throwing chunks of hot dogs at the Edsel Ford group.
The reunion will shape up into a party on the Fri. Aug 6 at some bar/restaurant and then some kind of buffett at some swanky place (no, the Egg and I is not a contender) on Aug. 7 2004.
Please try to plan accordingly all you out-of-town types...which is all of you except for me, Mari Panter, Michelle Pilla, Ralph Evangelista and a few other die hards.
There really will be a mailing and soon...one or two weeks. We thought we'd do it during the peak Christmas mail Season so as to further jam it up. On there will be my usual giberish along with a Lost List of fellow alum whose mail came back showing they'd moved when we did our last mailing. We're asking you to look at that list and search your foggy brains to recall where these people might be.
For instance, Ron Coon's house is now a grassy field, so we're pretty sure he doesn't live in it anymore...at least we hope he still isn't in it. We may still use the old address to just to confuse and anger the post office...we'll see.
Anyway, it's a great way to aggravate old friends by letting us know where they are so we can beg and bother them to show up at the next one. If you haven't been, you should go. It's fun..in a very strange way. Please have a great Holiday Season. Take time to sit and enjoy it. Love and Joy, Tim PS I didn't ever have him, but did we really have teacher that looked a lot like Abe Lincoln at DHS? What was with that? That was a real grand bunch of characters wasn't it?
---
Congratulations to Jeremy Wescott
By: Tim Rauh, July 29, 2003
(Dearborn, MI)
Dear Classmates, I realize that in 24 plus years since graduation, our class 482 or so people have hit thousands of milestones, accomplished great feats and gone literally, intellectually and emotionally great distances. So, in that light it may not be THAT big of a deal, but I did want to congratulate our Jeremy Wescott for getting his Hole-In-One recently at Links at Pinewood.
This news caught my eye in the sports page of the Free Press Tues, July 29 2003 pg 5D. Which is even more amazing because I NEVER read the sports page (there's very little track news, for one thing and the Tigers have hit new long term depths for another), but was forced to by my baseball-crazed 7 year old, Adam. For the record, Jeremy aced the 13th hole (lucky you) using a nine iron for a 145 yd shot. This is his first hole in one. I just want to say that I've hit plenty of things on my tee shot, but never the hole...of the hole I was playing anyway...but that's another story. Congratulations Jeremy, way to go. You did your alma mater proud.
On another matter, you'll all be getting a mailing from us in a month or two. If you don't get one by Oct 1, 2003 please e-mail us and let us know where on Earth you are. It's going to say that we're still planning a party for the first weekend in Aug 2004. Take care. Let me know what's up with all of you. May you all have "aces" at whatever you're legally up to. Always watching from Dearborn, Tim PS The stone bridge at Ford Field is gone. It was replaced by a snappy, covered bridge made of wood and has been up for a few months...what do you bet Al Laraza has already carved his initials in it?
---
Any Ideas for Reunion 25?
By: Tim Rauh, March 31, 2003
(Dearborn, MI)
Hey Everyone. We like to know what you'd like for a 25 year reunion. If you've got thoughts on this, write us. It's fast approaching and we don't have the cruise ship booked...you know, the one we'll take down the Rouge...got to watch our costs you know.
Address things like time of year, buffett, picnic golf outing, bar hopping or just all of the above. As always, we'll need to find people and also get their new e-mails 'cause they all went to cable or DSL Anyway, check in when you can and let us know your thoughts - Peace, Tim
---
Soccer at DHS and '79 Duffers
By: Bill Dean, October 31, 2002
Hello Mr. Rauh and any former DHS Soccer players within the sound of my typing --- yes, we had a soccer team - o.k., it was a club way back then. Happy to report that DHS has a very healthy soccer program now, some 24 years after John Courtney and I were the co-captains.
DHS is hosting Division 1 regional this week, so we've come a long way. By the looks of the current team, any four of them could outscore the 1978/9 squad (but after all - we're all 41 years old now.
On a different topic, I've recently returned from Tampa, FL, the site of the 12th annual Golftoberfest Golf outing. The four duffers are Brad Pfeifer, Greg Hanson, Ken Tiseo and myself. We started the tradition in 1989, with the winner taking home the coveted yellow sports coat (eat your heart out Mr. DeStigter).
Each year the winner is obliged to add some creative enhancement to said jacket - by now it's a hideous but strangely provocative garment. I'll ask Greg to send a photo - he was the winner this year.
---
Good Autumn Morning Alums..
By: Tim Rauh, October 28, 2002
(Dearborn, MI)
Good Autumn Morning Fellow Alum from over hear on Garrison St. From here I can see that Mr. Destigter has switched to the green corduroy suit, (from the blue pin stripe), so it's a sure bet Fall is here. He's really a pretty snappy dresser for a radical isn't he?
Anyway, the big news from alum central is that we found Steve Lambroff. He's in FL. He goes by the name of Richard Pryor now...that's his business name anyway...He said to say "Hi" to you all and that he would try to make the 25th.
I can't explain the stuff we do, I just report it once in a while, ok? What's next is that there was a mailing sent out in July or so by the city. The undelivered returns from that mailing will be at city hall in Nov. and THAT will start the LOST LIST. We'll get a letter out in Jan or Feb '03 with those "lost souls" on it and ask that you who are "found" assist in finding the lost if you can. Make any sense(?)...I thought not...none of this does if you stop and think about it.
No other big alum news to report. It's still the same old stuff...Tony Hanford continues to assist NASA in rocket design, Lori Viscogliosi continues to teach at Harvard, Margo Stavros is teaching at Penn State. Rob Rosenfeldt steers freighters on the great lakes, look for him on the bow of the Calloway next time you see it. Gordon Adcock remains in prison, though I understand his last attempted escape had the authorities looking for him for nearly 2 days...good effort Gord! Not sure he'll make the 25th, but there's always a chance.
And yes, Sue Sulisz and Bruce Mason are still blissfully married. I'm still proud for doing my part in making that one happen. Please take care. Stay in touch with each other. Have a great holiday season. Be sure to eat too much and hug a lot of people.
PS Remember that new special memories are made every day...that is unless you're not paying attention,forgetful or couldn't care less.
---
Drinking problem?...Talk to someone!
By: John Hutchinson, July 01, 2002
(Colorado)
I just heard of the passing of Erik Peterson. My sympathy goes out to his wife and children. I've known Erik since the old days at Lindbergh. He was a great guy and will be missed.
I had a drinking problem myself several years back. But with the help of friends, I stopped drinking on September 2, 1995! It is the smartest thing I ever did.
If anyone out there thinks they have an issue with drinking, feel free to all me (303-670-7717) ANYTIME!! I'd be glad to talk to you. Anything for a fellow DHS '79 grad.
I'm not a counselor, nor do I claim to be. It's just good to know someone outside of the family that you can talk to. Even after almost 7 years sober I still have a friend I can talk to about alcoholism. Just knowing she's there is a great feeling. If you don't drink to much, count your blessings. Alcohol can kill you, just ask Erik Peterson's wife. Wishing good health and happiness to all.
---
Passing of Erik Peterson
By: Tim Rauh, April 08, 2002
(Dearborn, MI)
Dear Alum, itt is with deep sadness that I must tell you of the passing of one of our good friends. Last Tues 4/2 we lost Erik Peterson. Erik was married and a father of two girls who had been battling the desease of alcoholism for the past few years.
It does give me some comfort in that he was at the 20 year reunion. I hope some of you had a chance to visit with him as I did.
This is one of the lesser mentioned reasons why we have these parties I know I speak for all of us when I say we will miss him, his sense of humor, his smile and his first-class style terribly. Erik would've been 41 at the end of this month. It's way too soon for me to be writing one of these about one of us. I hope I don't have to again for a long while. Sincerely, Tim Rauh
---
Any interest in 25th Reunion?
By: Tim Rauh, October 17, 2001
(Dearborn, MI)
Hello Again Fellow Alum! Dottie Wolf has just walked by my office window over here on Garrison St on her way to the library and her hair had changed to bright red which is a sure sign of autumn.
Nothing earth-shattering to report, but I did want put out the notion that there appears to be interest in some kind of a 25th Reunion. I'd like to hear from all of you for suggestions as to the magnitude of the hoop-la.
For the date, I'm still partial to 1st weekend in August to stay tied to the Dearborn Homecoming. It gives our out-of-towners (that's most of us, come to think of it) something to do when we're not cooped up in a room with baloons, beer and Don Hoover. That date has a much lower likelyhood for snow, ice, yech, you know.
So, I know this is way ahead of time, but that's the trick to doing this right. The party will be in 2004 for all you non-math types (myself included) Let me know your thoughts. Let me know if you'd like to help. Let me know if you've found any folks on the Lost List, no doubt that will get larger, before it gets smaller. Let me know if I've said "Let me know" too many times.
There will be a letter coming mid summer 2002. You should see it in June or July 2002. If you do not get a letter, it means we have the wrong address for you and you need to contact us and wise us up. I do hope all of you are well. I really look forward to hearing from all of you soon.
PS Did I mention that Tom Jankowski is now a professor at MSU teaching Economics? That Mary Brosnahan runs a very sucessful Women's shelter in Manhattan and is the "thick of it" with recent tragic events? That James Todd now is in charge of a computer camp at UofM? The campers should have a lot of fun, so long as no one lets James use a whistle. Warm wishes to you on a cool (43 F) October day
---
Tim 'The Matchmaker' Rauh!
By: Tim Rauh, December 11, 2000
(Dearborn, MI)
Well, My Fellow Alum. The story can now be told. As of last Sat Dec 9, we now have a new class couple. Sue Sulisz married Bruce Mason.
Guess where they met? That's right, the reunion.
The reason for the secret is that Sue was convinced any early announcement would jix it. Let me assure you, there is nothing Jixed about this match-up. They make a great couple and are VERY HAPPY together.
Right now (Mon Dec 11,) they are on a plane bound for Australia and will honeymoon there for 2 weeks. They will reside in Fenton (the address is in your memory book) I must say also that I had more than a little to do with this match-up and am therefore taking full credit for their marriage.
It was I who pointed out Bruce to Sue on Friday night and said how thrilled I was we had found him (he found us actually throught this web page nice going Bruce. You don't know how many hours I put into trying to find you) and told her what a nice chat I had just had with him. Sue, was unimpressed...then anyway.
The next night at the big party, it was midnight, our class song came on "Free Bird" and Sue turned to Bruce, said "put down your beer, I want to dance!" The two of them were looking pretty chummy when I last saw them at 1:30am (when the owners of the hall were trying to throw us all out).
I asked Sue a few days later about her and Bruce and she said it was no big deal. (She actually, had been calling him every night...he's in California at this point.)
The next I know, it's June 2000 and I get a call from Sue saying she's engaged to a guy she met last August. I guessed Bruce. The way he proposed was 30 seconds after midnight on the Jan 1, 2000...on bended knee I might add...very classy. Please look in the pictures department of this web page. Scroll way to the end and you'll see 1 or 2 photos of our new class couple. The wedding was a first class affair. I couldn't be happier for the two of them. Best of luck to Sue and Bruce. See you soon. Tim (stll the catalyst) Rauh
---
DHS thumps EFHS!!
By: Tim Rauh, October 05, 2000
(Dearborn, MI)
Final Score: Dearborn High 34 Edsel Ford 12.
We thumped the Thunderchickens for the 4th consecutive year. Just wanted to let y'all know.
While I'm at it, there piece of wonderful news that I have sworn not to tell until Mid December. I'll only say this, that the reunion we had helped creat a new class couple. More in Mid December.
---
Hello to old Friends
By: Caryn Helmer (Clark), June 17, 2000
(Sparta, MI)
Moved away before high school, but might (had a choice) have attended DHS. My father graduated DHS 1959. Hello to old friends from Nowlin and O.L.Smith.
---
Try Picnic!
By: Tim Rauh, March 29, 2000
(Dearborn, MI)
Hey, looking for a great sandwich, bowl of soup in a place that's, well...cute. Try Picnic. It's owned and run by our very own Pete Terry.
It's at 16144 Middlebelt (between 5 and 6 mile)in Livonia on the east side of the street in the Concord Plaza. Pete's there M-F 8am to 5:30 Sat 11 - 3. It's a nice place with a really nice guy running it. Try it. Killer potato chips too.
PS - And while you're there, get the sandwich that's named after me! Now I am somebody!
PPS - He has no idea I posted this for him, he's way too preoccupied with making his famous potato salad.
---
Happy New Year!
By: David Martin, December 29, 1999
(Collierville, TN)
Happy New Year to many friends from long ago!! To Tim, Mari, Beth, Renee, Lou, and Ralph - Glad I was able to visit while in Dearborn.
---
Merry Xmas!
By: Carolyn Sagar, December 11, 1999
(Royal Oak, MI)
"...And I heard him exclaim, as he drove out of sight,
MERRY CHRISTMAS TO ALL, AND TO ALL A GOOD NIGHT!"
---
Season's Greetings Alum
By: Kevin Russell, December 02, 1999
(Dearborn, MI)
SEASONS GREETINGS TO DHS '79. SEE YA IN 2000 IF THE WORLD DOESN'T END BECAUSE OF Y2K !!!
---
Merry Christmas!
By: Laura Larese, November 29, 1999
(Royal Oak, MI)
Merry Christmas!
---
Nearing the Holiday Season
By: Tim Rauh, November 29, 1999
(Dearborn, MI)
Hello DHS Alum: Dottie Wolf has just walked past my window here at my office over here on Garrison (behind what used to be Muirheads) to go to F&M and pick up her bag of mints and candy canes like she has every year for as long as I can remember.
So, we must be nearing the holiday season. The pleasant reaction to the reunion is still reverberating (via e-mail, letters, etc). You all must have meant it when you said you had a good time.
Have a great holliday season. Remember that great memories are still made every new day. See you around Dearborn
---