DHS Class of 1979
25th Year Reunion
With a warm up at Bailey's and the reunion dinner at the Dearborn Hyatt Regency, this was a good time by all...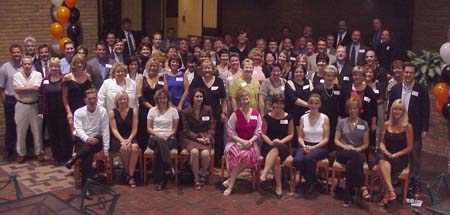 The 25th Reunion Group Picture
25th Reunion Info:
When: August 8, 2004
Location: Dearborn Hyatt
Alumni Attendance: 77
Alumni Guests: ?
Teacher Attendance: 3
Who Attended the 25th
Renee Bakalis
Randy Begin
Tom Beresford
Kim Berry
Mary Bigelow
Paul Bonaccini
Dean Cawthon
Kirk Clemens
Claudia Cooper
Lou Damiano
Debbie Daoust
Samira Deep
Kevin Dewey
Linda Donahue
Deanna Douglas
Michelle Drewyor
Caludia English
Eric Erlandson
Ralph Evangelista
Janine Fonville
Rob Franchi
Julie Giles
Marilyn Glover
James Green
Donna Greenup

Carol Grzybowski
Luis Guevara
Don Hopkins
Brenda Hale
Jason Hansen
Judy Hayes
John Johnson
Matt Justus
Mike Kazanowski
Vicky Kern
Caroline Keys
Kim Koos
Scott Liebold
Eileen Lim
David Martin
Ron Marvin
Mary Jo Mifsud
Kathleen Milinko
Richard Moore
Steve Moraniec
Andrea Nranian
Jerry Petri
Brad Pfeifer
Brian Pinfold
Joyce Powell

Denise Preston
Jan Quinlan
Tim Rauh
Joey Rebmann
Eric Reickel
Sue Reickel
Gwen Reome
Blake Robberts
Ray Romeo
Tim Rudicel
Kevin Russell
Sue Salvati
Eve Schafer
Sandy Schlaff
Jim Shedd
Amy Smith
David Stucky
Michelle Sziraki
Mary Pappas
Jeffrey Peter
Carolyn Sagar
Pete Terry
James Todd
Tom Tomasic
Susan Webster

Sheri Wilcox
Evelyn Zink

Teachers
Mr. Russo
Mr. Bridges
Mr. Arrick

Picture gallery from the 25th Reunion
Hover over the filmstrip to display the full size image here.

Hover over the full size image to see the descriptive text.


---